Hung: guida orgasmica per serial addicted
Cus I'm the one who's gonna show
When there's nobody
I'll be your man — Hung Theme
Il sesso è parte integrante, vivida e pulsante della nostra quotidianità.
Guardatevi intorno, è ovunque. Aleggia su di noi come lo spettro di una libidinosa tentazione persecutrice. Ha le curve di quella calamita per uomini di Irina Shayk, che conturbante e maliziosa campeggia sui cartelloni pubblicitari. Ha il corpo statuario di David Gandy, uno così bono che le signore quando se lo trovano davanti agli occhi se ne sbattono altamente del profumo che sta promuovendo. Si libera dai nostri occhi intenti a scambiare torbidi e fugaci sguardi con la persona davanti a noi nella metro.
Per questa società fottere è un pensiero fisso. Ecco perché scopriamo l'acqua calda quando affermiamo che la nostra vita trasuda sesso.
È la pura verità. Il sesso è dappertutto e chiaramente il prodotto televisivo non fa eccezione. Ma se intendiamo approfondire il connubio sesso-Serie Tv reputiamo inevitabile parlare di un prodotto che, nel suo piccolo, ha rappresentato uno spartiacque nel modo d'intendere (e mostrare) il sesso.
Per quelli che l'hanno amata, per coloro non la conoscono e per chi non l'ha apprezzata, signore e signori, salutate Hung.
IT'S HARD TO MAKE AN INDECENT LIVING
 I used to have a family. I used to have a wife, kids, a house, a job. Now, well, now I have my dick. A dick and a dream. If that's not the American way, what is? — Ray Drecker
Era il 2009. Barack Obama vinceva il Premio Nobel per la Pace. Il mondo omaggiava con un ultimo saluto Michael Jackson. In campo seriale esordivano Being Human, Glee, Modern Family e The Vampire Diaries (qui scoprirai le 9 migliori Serie Tv nate in quell'anno).
Era il 2009 e HBO mandava in onda Hung
Dimenticate l'artificiosamente glamour e sboccata Sex And The City. 
La ripetitiva promiscuità di Californication? Superficiale.
Nel corso di tre stagioni, Hung rivela il sesso per quello che è, sbattendocelo sui denti e designandosi quale precursore dei tempi. D'altronde Game of Thrones era ben lontano dal regalarci il sogno erotico di dominare una Khaleesi, mentre STARZ e il suo nudo e crudo non avevano ancora cittadinanza.
Innovativo a modo suo, semplice. Così semplice da essere facilmente sottovalutato. Nondimeno in questa comedy, dove corpi nudi e bollenti s'intrecciano fino a esplodere nel rumore di bacini che schioccano tra loro, convivono in perfetta simbiosi goliardia e temi pressanti.
Toy boy, crisi finanziaria, prostituzione e famiglia sono alcuni degli argomenti che rappresentano la spina dorsale dello show targato HBO. A tutto questo dobbiamo aggiungere, ovviamente (e soprattutto) il sesso. Mostrato nella sua potenza e immediatezza. Svincolato dalla funzione strumentale o di rottura a cui eravamo abituati a vederlo fino a quel momento. Il reale protagonista di questa Serie Tv.
UN C***O ENORME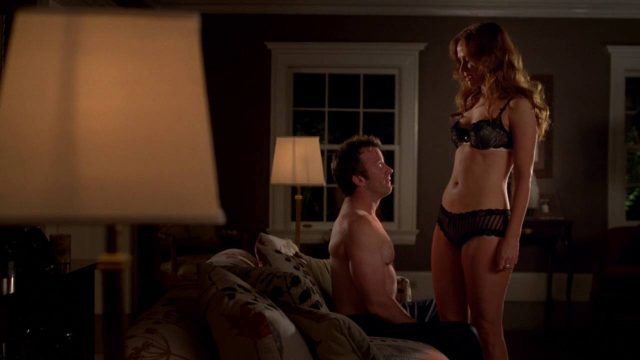 I need to take a break from this business. — Ray Drecker
Why? Did your dick break? — Lenore Bernard
Hung vuole essere un racconto di vita incentrato sulle (dis)avventure sessuali di un uomo con, cito testualmente, "un c*zzo enorme".
Ray Drecker (Thomas Jane) è una ex promessa del baseball che ha dovuto abbandonare i propri sogni di gloria e oggi lavora in un liceo come allenatore.
Un uomo la cui vita sembra irrimediabilmente compromessa dalla crisi economica a cui si aggiungono il divorzio  e l'incendio della sua abitazione a causa di un corto circuito. Senza più nulla da perdere Ray comincia a frequentare dei seminari intitolati Unleash Your Inner Entrepreneur. Qui gli viene consigliato di scovare e sfruttare il proprio potenziale, qualcosa che solo lui possiede.
E cos'ha Ray di speciale? Presto detto, qualcosa di enorme fra le gambe!
Tra superdotati, donne infoiate e orgasmi da scoprire, Hung costruisce una storia lineare e agevole, che senza troppe pretese lascia in dote una una lectio magistralis cristallina e per nulla banale in materia di sesso.
In questa Serie Tv, il rapporto sessuale si esprime non solo nella fisicità e nel desiderio. Emergono sfumature che delineano tutto il potenziale di un atto dato ormai sin troppo per scontato.
Perché c'è "sesso" e "sesso"…
Il sesso in Hung è qualcosa che potremmo definire ordinario. Non ci sono modelle abuliche o capricciose, uomini dal six-pack in serie, orge miste a perversioni violente o fuori dagli schemi. Solo persone "normali", che agiscono in base al bisogno, all'istinto di soddisfare quella maledetta voglia di sentirsi desiderate, piene, felici.
Il verbo copulare è dunque ricondotto alla sua funzione primordiale, viscerale, intima, come la più naturale delle erezioni.
Certo suona strano descrivere in questi termini un rapporto in cambio di denaro, ma Ray non è un gigolò qualunque, è un uomo messo (s)palle al muro dalla vita, il quale scoprirà come l'empatia sia la chiave per una piena esperienza sessuale.
JUST A GIGOLÒ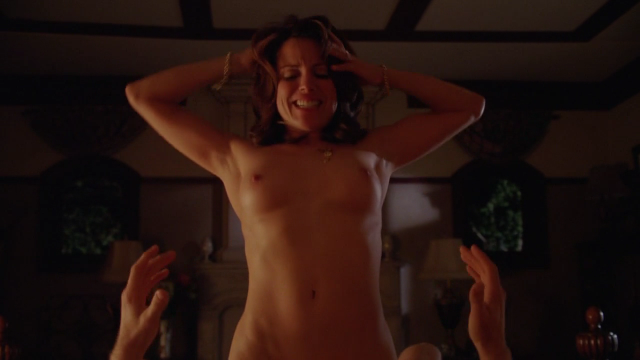 He has this at home, but he prefers dirty whores! — Yael Koontz
"When the end comes, I know, they'll say just a gigolo. As life goes on, without me", cantava Louis Prima.
Cosa c'è di più facile di una botta e via? Ti spogli, gli apri le gambe e il resto viene da sé. Nessuna responsabilità o impegno, soltanto divertimento.
Hung sgretola questa chimera, mettendo in discussione come il piacere passi esclusivamente da quello che teniamo nelle mutande. E se il solo amplesso fisico non fosse sufficiente? Se il miglior sesso della vostra vita passasse per un percorso di consapevolezza?
Conoscersi e adattarsi, in un processo di complicità
Le donne di Ray, al pari di quelle che ci circondano,  hanno vite, emozioni, che si riflettono in esigenze da soddisfare.
Certamente quello che bramano è ciò per cui pagano, ma il nostro protagonista capirà presto che per essere "il migliore", prima di solleticare le zone erogene, dovrà farsi spazio nella personalità del partner. Un passaggio primario per poter riempire adeguatamente quel buco fatto di necessità incompiute.
Hung non esalta le coccole, non invita a passare la notte insieme, o fare colazione il giorno dopo. Così come non inquadra la donna al pari di una bambola gonfiabile arrapata. Il sesso è atavicamente pulsione, voglia. Tuttavia rispondere istintivamente alla chiamata dei lombi non basta.
 Il sesso nella sua accezione più pura è una forma di linguaggio, di connessione tra le persone
In quella tempesta ormonale tra le pieghe delle lenzuola, morbosità e carnalità sono soltanto alcuni dei colori che compongono un tweed fitto e frastagliato arricchito in brame, sentimenti, ansie. Non basta l'attrazione fisica, si deve andare oltre, captare quelle vibrazioni sconosciute ai primi sguardi.
Fondersi con l'altra parte significa ribaltare le nostre convinzioni. Scopriremo allora che quella gran cosa chiamata pussy licking è un'arte da donne, che il sesso cazzuto e duro è tanta roba ma non per tutte le stagioni, di come bisogna saper dosare le carezze e gli schiaffi sulle natiche a seconda delle situazioni e che proporre il fisting o l'anilingus non fa di noi degli eroi nazionali.
L'atto sessuale è lo strumento con il quale ricondurre il tutto all'equilibrio, mentale e fisico, raggiungendo attraverso la confidenza un totale appagamento. Perché in fondo il sesso si fa in due.
In questo modo Ray capirà che un uomo capace di esaudire i bisogni della propria partner è ciò che di più orgasmico esista.
HAPPINESS CONSULTANTS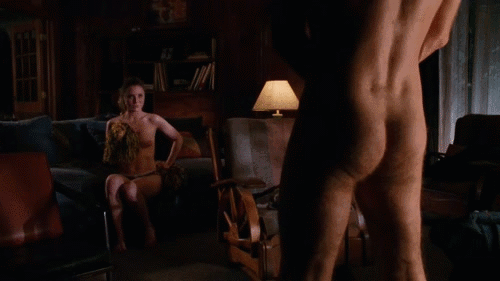 Hung ci guida in un viaggio attraverso una lettura del rapporto sessuale che vede il raggiungimento dell'autentico orgasmo attraverso la comprensione di chi condivide con noi il letto.
A questa Serie Tv va riconosciuto il merito di aver ricondotto il sesso nella sua dimensione più semplice e pulita, affrontando un argomento fortemente personale, ma che indubbiamente vive di una componente psicologica imprescindibile.
Qualcuno ha storto il naso davanti al paradosso di un uomo che si prostituisce per non perdere la sua famiglia e a questa sinfonia di sentimenti imprevisti tra Ray e le donne che lo pagano per le sue prestazioni. C'è chi ha parlato addirittura di "morale del contadino" sentenziando Hung come una Serie Tv assai ingenua e grossolana. Personalmente, da qualsiasi punto di vista si voglia osservare la questione, le sensazioni e i sentimenti sono quegli strumenti che l'uomo ha a disposizione per relazionarsi con il mondo, entrare in contatto con il vero io che alberga in ognuno di noi e questo vale in ogni ambito, sesso compreso. Se è questa la 'morale contadina' cui i benpensanti alludono ben venga, almeno speriamo di essere in grado di saper fare un sesso soddisfacente.
Avere coscienza di sé, di ciò che l'altra metà desidera realmente regalandosi un piacere fisiologico e necessario. È questo quello che fa Ray Drecker, rende felici le sue clienti in quanto donne. Non a caso Tanya ha coniato per il suo assistito un titolo apposito: Happiness Consultants.  Ed è proprio così, il sesso, quello "buono", è felicità al quadrato.