How I Met Your Mother è una sitcom destinata a un pubblico molto ampio e per questo è una Serie Tv piuttosto casta: si contano sulle dita di una mano le scene che potrebbero essere definite "a luci rosse". Rispetto a Serie Tv come Game of Thrones, Outlander o Sex and the City la nostra Serie Tv che ha come protagonista il dolce Ted Mosby è pura come una studentessa di una scuola cattolica. Eppure gli elementi per delle infuocate scene hot c'erano tutti: diverse attrici sexy, un playboy incallito, l'ambientazione nella città più pazza di tutte e inoltre i protagonisti erano tutti adulti e sessualmente attivi. Gli autori hanno preferito però non inserire molte scene hot nella Serie e non mostrare nel dettaglio le avventure tra le lenzuola di Barney e non ci hanno fatto dare nemmeno un'occhiatina al video hard di Marshall e Lily.
Tuttavia noi siamo riusciti a trovare 10 scene hot persino in How I Met Your Mother! Sono comunque piuttosto pudiche rispetto a quelle di altre Serie, ma comunque apprezzabili.
1) Lily seduce Marshall al lavoro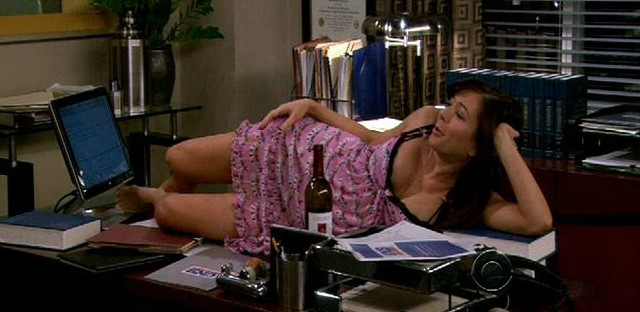 Questo è stato uno degli episodi più divertenti di "How I Met Your Mother", ma dobbiamo ammettere anche che alcune scene sono state piuttosto bollenti. Lily e Marshall (leggi qui  i dieci motivi per amare questa splendida coppia) avevano deciso di cominciare a provare a concepire il loro primogenito e per questo Lily aveva preparato una serata molto romantica per suo marito, ma Marshall era stato trattenuto al lavoro. Inizialmente Lily si è fatta prendere dall'ansia e ha cominciato a chiedersi se fosse davvero pronta a diventare mamma, ma dopo aver bevuto un'intera bottiglia di vino le sue insicurezze sono svanite.
Si è recata quindi nell'ufficio di Marshall, indossando solo una camicia da notte e seducendolo ha cercato di convincerlo a concepire il bambino proprio sulla sua scrivania. Sebbene Marshall sia attratto da sua moglie, ha dovuto rifiutare sapendo di non poter mancare alla riunione. Abbiamo riso moltissimo mentre il povero Marshall cercava di restare concentrato mentre parlava ai suoi colleghi, nonostante sua moglie lo provocasse da lontano. Tuttavia abbiamo anche pensato che Lily avesse veramente un fisico splendido e che fosse proprio sexy e siamo stati un po' invidiosi di Marshall.