Le migliori serie tv ci tengono attaccati allo schermo e non smettono di sorprenderci con colpi di scena del tutto inaspettati. Ma nell'era dei social possiamo ancora parlare di "inaspettato"? Sicuramente no, anche se i produttori si sono spesso adoperati per ridurre al minimo la fuoriuscita di notizie, un esempio su tutti è stata l'ultima stagione di Game of Thrones per cui la HBO ha addirittura elaborato una nuova tecnologia (qui vi raccontiamo l'assurda storia).
"To spoil" deriva dall'inglese e significa appunto "rovinare", che sia una serie tv cult o una freschissima nuova produzione è sempre più difficile aggirarsi nei meandri di internet senza inciampare in qualche spoiler che renderà l'inaspettato uno scenario già visto.
Ci sembrerà strano eppure la comunità di serializzati si divide tra chi cerca di evitare gli spoiler in tutti i modi (perdendo le staffe quando fallisce nel suo tentativo) e chi, invece, prova addirittura gusto nel cercarli.
Vi sono divergenze anche sul fronte temporale: alcuni ritengono che decorso un determinato lasso di tempo dalla fine della serie non si possa neanche più parlare di spoiler, legittimando qualsiasi scambio di informazioni.
Che siate pro o contro gli spoiler, sarà meglio far suonare il campanello d'allarme "Spoiler Alert" perché abbiamo raccolto i 10 colpi di scena più spoilerati nella storia delle serie tv.
SPOILER ALERT – L'articolo contiene spoiler su Gomorra, How I Met Your Mother, Dexter, Lost, Friends, Game of Thrones, Sherlock e Breaking Bad
10) Gomorra – 'A fine dô juorno sta tutta 'cca.
'A fine dô juorno sta tutta cca.
Sono queste le ultime parole di Don Pietro Savastano, il boss senza scrupoli e senza pietà che ha appassionato tanti spettatori. Viene colto da Ciro l'Immortale (che in fatto di morte-spoiler non può certo lamentarsi) in un momento che lo ritrae quasi come un uomo normale, dinanzi la tomba della moglie per confessarle il suo amore per un'altra donna.
Don Pietro si aspettava di trovare il figlio Genny che, invece, lo tradisce consegnando la pistola nefasta all'Immortale.
Nell'atmosfera grigia e cupa di Gomorra anche l'incrollabile e imperturbabile capo si sgretola al terreno come una foglia secca.
È un colpo di scena ben costruito che ha sortito un tale impatto da diventare virale, di conseguenza è quasi impossibile iniziare a vedere la serie al giorno d'oggi senza venire a conoscenza di questa morte rumorosa. Così come la morte dello stesso Ciro, al termine della terza stagione.
9) Friends – La relazione tra Monica e Chandler
Quella tra Monica e Chandler può considerarsi una delle storie d'amore più romantiche delle serie tv (qui la nostra classifica totale). Sono passati ormai 25 anni da quando è andata in onda la prima puntata di Friends e per molte persone è scorretto parlare di vero e proprio spoiler.
Eppure, nonostante l'età della serie avanzi, ai nostri occhi appare sempre giovane e fresca e, per quanto possa sembrare assurdo, sono tantissime le persone che iniziano a vedere Friends ancora oggi.
Se rientrate in quest'ultima categoria e riuscite a vedere tutte e 10 le stagioni al riparo dagli spoiler siete dei veri e propri eroi, d'altronde Chandler e Monica sembrano tra loro antitetici. L'uno discontinuo, distratto e immaturo, l'altra perfezionista e metodica. Nonostante questo, però, anche chi sapeva già come sarebbe andata a finire non ha potuto non fare un saltellino sulla sedia nel vederli insieme in quell'albergo di Londra.
8) Game of Thrones – La morte di Joffrey Baratheon
Se mi dovessero chiedere qual è la serie tv più spoilerata della storia non esiterei a rispondere "Game of Thrones". Negli ultimi otto anni quest'ultima ha riscosso uno straordinario successo, diventando un vero e proprio fenomeno virale.
La morte di Joffrey Baratheon non è solo uno dei momenti maggiormente oggetto di spoiler, è anche uno dei momenti più soddisfacenti. Insomma, la morte non si augura a nessuno ma il nostro rampollo reale si è davvero impegnato per riscontrare le antipatie di tutti.
Nella sua breve ma intesa esistenza si è macchiato di crimini violenti, che non è certo una novità in Game of Thrones, ma ciò che maggiormente irrita e indispettisce gli spettatori è la sua spocchia ingiustificata e il suo infantilismo viziato che, accoppiati alla sete di potere, creano tutti i presupposti per rendere il pubblico un gioioso commensale al "velenoso" matrimonio.
7) Sherlock – "Un semplice trucco di magia"
La seconda stagione di Sherlock vede giungere al capolinea (o quasi) la lunga partita a scacchi tra Holmes e Moriarty. I due si sono rincorsi sul filo dell'odi et amo cercando sempre di cogliere l'altro alla sprovvista.
E mentre noi balzavamo dalla sedia, il nostro investigatore preferito balzava giù dal grattacielo. Nella mortale danza finale chi avrà vinto la partita? Sicuramente non l'avrà vinta chi ha iniziato la serie o la stagione con un po' di ritardo.
Infatti, che Sherlock avesse architettato un piano perfetto per evitare lo schianto ce lo aspettavamo tutti (anche se non ne eravamo totalmente sicuri). Quello che ci ha lasciati più interdetti è la reazione di Moriarty, uno dei villain più amati del piccolo schermo. Una morte in sordina non sarebbe stata coerente con il suo stile, è il caso di dire "spoiler want to break free".
6) Breaking Bad – "Din Din Din"
Vengono i brividi anche solo a rivedere le immagini vero? L'assassinio di Gus Fring è un colpo di scena da maestro, la vendetta perfetta di Walter e un superbo arzigogolo creativo di Vince Gilligan.
L'adrenalinica scena non poteva certo lasciare indifferenti e la pioggia di spoiler ne è la diretta conseguenza. La tutt'altro che muta interpretazione di Mark Margolis (Hector Salamanca) ci lascia sospesi a un filo di suspense che esplode insieme alla sua bomba. Poi la chiusa poetica con l'impassibile Gus che riemerge tra le ceneri, si sistema la cravatta e ci appare, finalmente, nelle sue vere sembianze di mostro bifronte.
In definitiva possiamo dire di trovarci di fronte a uno dei pochi casi in cui lo spoiler rovina ben poco poiché l'iconico "Face-Off" è in grado di stupire anche all'ennesimo rewatch.
5) Lost – "Not Penny's boat"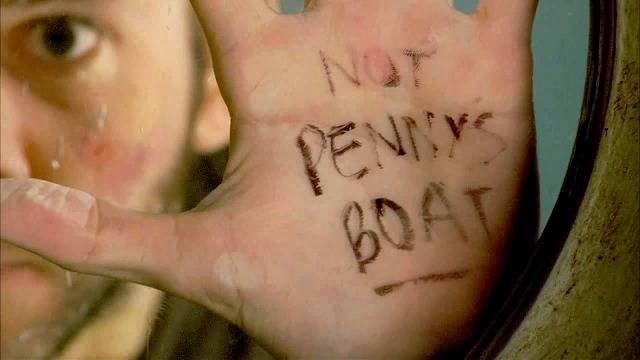 "Non è la barca di Penny"
Parlando di spoiler, la morte di Charlie è stata una pioniera in materia: Desmond l'aveva "spoilerata" a Charlie stesso qualche puntata prima, anche se si era posto in competizione con il destino cercando di risparmiargli la fine infelice ogni volta che se ne verificavano gli eventi.
J.J. Abrams ha costruito la sua fortuna giocando a fare il burattinaio del Fato e nonostante i vari tentativi di Desmond sarà proprio il sacrificio di Charlie a salvarlo.
Questa è una scena che si è posta quasi come simbolo iconico di Lost, per certi versi ne cristallizza la poesia e il simbolismo che hanno reso questa serie inimitabile e senza tempo. Caratteristiche che, inevitabilmente, sfociano in un'ondata di spoiler.
4) Dexter – Il finale
Quello di Dexter è un silenzio rumoroso: riusciamo a leggere nel suo sguardo il peso dei rimorsi e la disillusione di chi ha smesso di lottare contro se stesso.
Tuttavia, anche in questo caso, l'ampia divulgazione delle immagini non impedisce di godere appieno di una delle conclusioni meno scontate nella storia delle serie tv.
La vita di Dexter è come uno di quei labirinti colmi di specchi che troviamo nei parchi divertimento. Lui gira in tondo cercando una via d'uscita che gli impedisca di scontrarsi con le mille versioni di se stesso.
Insieme a lui noi percorriamo lo stesso percorso e a prescindere dagli spoiler o dal disaccordo sulla chiusa non possiamo fare a meno di fondere il suo sguardo con il nostro. "Tonight is the night" ma non succederà più nulla.
3) Grey's Anatomy – La morte di Derek
Quindici stagioni di Grey's Anatomy non ci hanno certo risparmiato morti tragiche e strappalacrime, d'altronde l'ambientazione è un ospedale, ma ce n'è una dalla quale non ci siamo ancora ripresi.
Sì, sto parlando dell'incidente improvviso che ci ha portato via il dott. Shepherd. È stato talmente straziante che era come se ci fossimo stati anche noi a soffrire con Meredith e asciugarci le lacrime con il primo fazzoletto capitato a tiro (non importa se sei al primo o al decimo rewatch, i fazzoletti saranno sempre utili).
L'empatia provocata da questa scena e il sano dispiacere nel veder morire un personaggio che sin dal primo episodio era entrato nei nostri cuori, ci trascinano in uno stato di trasporto emotivo che rende difficile "mantenere il segreto" sul web e non.
Quindi mi dispiace, ma se rientrate in quella categoria di persone che non ha ancora visto Grey's Anatomy, per voi sarà molto difficile rimanere sorpresi da questo colpo di scena. Una lacrimuccia, però, non ve la risparmierà nessuno, neanche il peggiore degli spoiler.
2) How I Met Your Mother – Il "ritorno" del corno blu
Scommetto che vi ricordate ancora il turbinio di emozioni sortito dall'ultima puntata di How I Met Your Mother. Non c'è nessun dubbio sul fatto che nessuno si aspettasse di vedere un Ted brizzolato stringere nuovamente quel corno blu tra le mani… beh, forse qualcuno.
D'altronde non è neanche più un mistero l'identità di Tracy McConnell, fantomatica "mamma" che ci ha messo così tanto per arrivare e così poco per scivolare via dalla storia.
In fondo, soprattutto se siete abituati ad andare a zonzo sul web, vi sarà capitato sicuramente di incrociare lo sguardo languido di Ted e capire che dopo nove stagioni il cerchio si sarebbe chiuso proprio dove si è originato: con il nostro narratore al cospetto della sua Robin. Come si suol dire: "Certi amori fanno giri immensi e poi ritornano".
1) Game of Thrones – "You're (not anymore) my queen"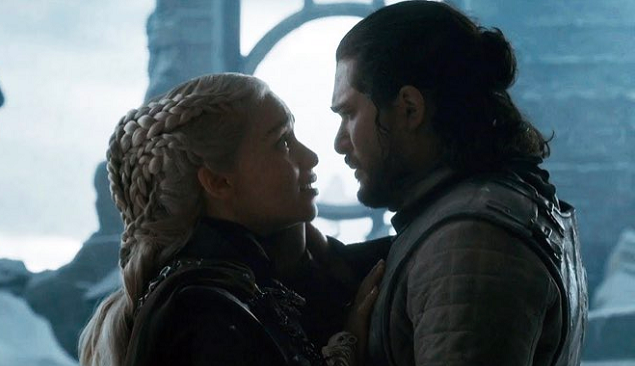 Un colpo di scena fresco come la neve a Grande Inverno è nell'ultima puntata puntata di Game of Thrones. L'assassinio della Khaleesi, diventato virale già dopo poche ore dalla messa in onda. La nostra regina ha raggiunto il limite, la Distruttrice Di Catene non è riuscita a distruggere il suo destino e pochi di noi sono riusciti a evitare lo spoiler.
Il seme della pazzia ha colpito anche la Madre Dei Draghi che, accecata dalla sete di vendetta, riduce in cenere anche gli ultimi bagliori di pietà presenti nel suo cuore.
Beh, di fronte all'ennesimo spoiler di Game of Thrones dobbiamo ammettere che anche noi avremmo voluto un drago a cui urlare "Dracarys".