È inutile negarlo: Game of Thrones è una delle Serie più popolari e più seguite del mondo. Per far in modo che questo successo continui, la produzione ha il compito di scegliere bene tutto il cast: dagli attori principali alle comparse. Considerando il gran numero di persone che compongono il cast, si scopre che alcuni di essi hanno un passato davvero interessante…
Ne è un esempio Sibel Kekilli, che ha interpretato Shae in Game of Thrones. L'attrice ha infatti fatto carriera nei film per adulti. Ora è il turno di un'altra attrice che ha deciso di entrare nel mondo del porno.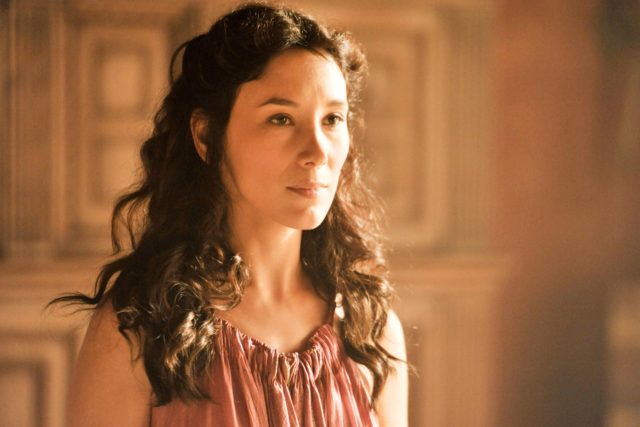 Stiamo parlando di Ella Hughes. L'attrice ha interpretato una prostituta di Volantis nella sesta stagione di Game of Thrones. Ha deciso di abbandonare gli studi di legge per dedicarsi a una carriera nel mondo del porno. Al momento Ella recita in film a luci rosse, vende lingerie e si esibisce in webcam shows per i suoi fan. Durante un'intervista ha dichiarato:
Fare porno non era mia intenzione. Quello che volevo era avere una laurea in legge. Sono a metà strada, ma per il momento ho posticipato questo obiettivo. La pasisone che ho per questo nuovo lavoro conquista tutte le critiche. Per quanto mi riguarda, posso dire che non mi importa. Perchè il mio amore per questa professione pesa più di tutto il resto.
Ecco una foto pubblicata sul suo profilo Instagram per promuovere Queen of Thrones, la parodia porno targata Brazzers di Game of Thrones: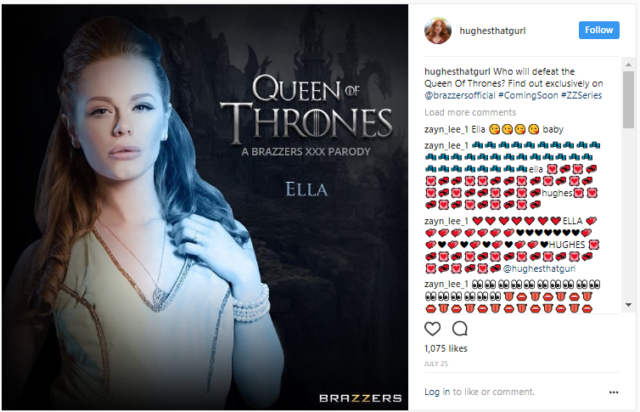 Per il momento l'attrice sembra quindi convinta di proseguire in questo modo la sua carriera da attrice. Con il passaggio da Game of Thrones a Queen of Thrones, possiamo dire che Ella Hughes si è sicuramente divertita sul set della Serie Tv, apprezzandone la storia (e non solo!).