Il mondo seriale oggi non sarebbe lo stesso senza alcuni dei suoi pilastri più importanti. Serie tv come Breaking Bad, Lost e Friends hanno lasciato, nel corso degli anni, un'impronta profonda nella storia della televisione. Hanno condiviso l'affetto di un vasto pubblico e l'incommensurabile fama, diventando così eterni.
Tuttavia, le loro storie e i loro iconici personaggi hanno rischiato di subire dei cambiamenti enormi a causa di alcuni colpi di scena che, per varie ragioni, non sono mai andati in onda.
Immaginate irreversibili cambiamenti come lo scioglimento di coppie amatissime, come Monica e Chandler in Friends, o la perdita di fondamentali personaggi.
La loro assenza ha decisamente favorito l'affermarsi dei seguenti show, divenuti a tutti gli effetti dei cult del piccolo schermo. Ecco quindi quali sono i 10 plot twist che avrebbero stravolto la storia delle serie tv per come le conosciamo.
1) La morte di Jesse Pinkman (Breaking Bad)
Cosa sarebbe il piccolo schermo senza quel gioiello di Breaking Bad? La serie tv creata da Vince Gilligan rappresenta una pietra miliare della televisione. Eppure, il regista ha cercato di eliminare un personaggio fondamentale per la buona riuscita dello show già alla prima stagione.
Stiamo parlando di Jesse Pinkman, l'irresponsabile spacciatore che durante agli inizi di Breaking Bad dà parecchio filo da torcere al co-protagonista. A rivelare la notizia è stato proprio Gilligan, il quale ha ammesso che avrebbe voluto eliminare il personaggio durante la 1×06, dopo uno scambio di droga finito male. La scomparsa del ragazzo avrebbe così accelerato la trasformazione di Walter White nello spietato Heisenberg.
Fortunatamente, l'incredibile interpretazione di Aaron Paul, nonché lo sciopero degli stessi autori dello show, hanno impedito la messa in atto del plot twist.
2) Marissa Cooper sopravvive (The O.C.)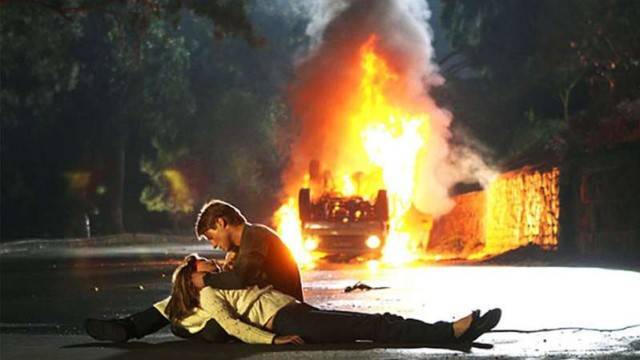 Uno dei traumi che molti serial addicted condividono è la morte di Marissa Cooper, in The O.C.. Nella 3×25 infatti, in seguito a un tragico incidente stradale, il personaggio di Mischa Barton perde la vita lasciando esterrefatti tutti i fan della serie. Quel drammatico momento è entrato nella storia della televisione, venendo ricordato tutt'oggi come uno dei plot twist più sorprendenti dello show.
Forse non tutti sanno però che le cose non sarebbero dovute andare così. Il personaggio di Marissa avrebbe dovuto semplicemente abbandonare Orange County a bordo di un'auto, viaggiando verso il tramonto. La decisione di eliminarlo del tutto è spesso oggetto di dibattito, poiché sia l'attrice che lo showrunner della serie hanno fornito dichiarazioni contrastanti.
John Schwarts ha affermato che si è trattato unicamente di una scelta creativa, poiché l'obiettivo principe era quello di sconvolgere gli spettatori e chiudere la terza stagione "col botto". Durante un'intervista al New York Times, Mischa Barton ha invece dichiarato che la morte di Marissa è stata concordata con l'autore dello show, giacché l'attrice voleva chiudere del tutto i contatti con lo show, in modo da essere priva di vincoli lavorativi.
3) La friendzone tra Monica e Chandler (Friends)
La storia d'amore tra Monica e Chandler è una delle più belle di Friends, oltre che del piccolo schermo, ma ha rischiato di non vedere mai la luce del sole. A svelare l'assurda notizia è stato Saul Austerlitz, critico della televisione, che nel libro Generation Friends ha raccolto numerose interviste con gli autori e i registi dello show. Lo scrittore rivela così che, prima delle riprese della seconda stagione, gli autori di Friends pensarono di far finire i due personaggi insieme per puro svago.
Questa trama sarebbe stata sfruttata per un paio di episodi, prima di riportare tutto alla normalità. Ci furono parecchi dissidi a riguardo, quindi la loro storia fu messa in disparte sino alla 4×24, quando Monica e Chandler trascorrono la notte insieme. Gli autori di Friends pensarono quindi di concludere il loro flirt con un accordo, in seguito al quale i due personaggi si sarebbero dimenticati di quell'errore.
La reazione del pubblico in studio, fortunatamente, convinse gli autori di Friends che decisero di scartare quella scena e di rendere la coppia ufficiale.
4) L'inserviente immaginario (Scrubs)
Come reagireste se vi dicessimo che uno dei personaggi più amati di Scrubs, in teoria, non sarebbe mai esistito? No, non è uno scherzo: il sarcastico inserviente della sitcom sarebbe dovuto essere unicamente frutto dell'immaginazione di JD.
L'inaspettato colpo di scena sarebbe stato rivelato alla fine della prima stagione, nel caso in cui lo show non avesse riscosso un grande successo. È infatti evidente che inizialmente il simpatico personaggio si rivolga soltanto al protagonista. Fortunatamente Scrubs di strada ne ha fatta parecchia e l'inserviente, interpretato da un eccezionale Neil Flynn, è divenuto col tempo uno dei personaggi più importanti e amati dai fan della serie tv.
5) La resurrezione di Tara (Buffy the Vampire Slayer)
In Buffy the Vampire Slayer tutti abbiamo amato il rapporto tra Willow e Tara. Per questo la morte prematura e improvvisa di quest'ultima è stata devastante. Quell'evento ha scombussolato l'intero equilibrio di Willow, sebbene rappresenti un momento importante per la sua crescita.
Nonostante questo, però, il regista della serie ha rivelato che la strega sarebbe dovuta tornare con un incredibile plot twist. Nel 2004, durante la convention Wizard World a Chicago, egli spiegò che durante un episodio della settima stagione Buffy avrebbe ottenuto un desiderio in grado di alterare la realtà. Dopo una lunga riflessione, la protagonista avrebbe scelto di riportare in vita Tara e l'episodio si sarebbe concluso con l'incontro delle due amanti. Questo colpo di scena purtroppo non andò mai in onda, poiché l'attrice Amber Benson non si rese disponibile per le riprese.
6) La morte di Jack Shephard nell'episodio pilota (Lost)
Tra i cult della televisione, Lost ha un posto d'onore. Per sei stagioni ha tenuto incollati i fan dinanzi allo schermo grazie alla sua peculiare e spesso controversa trama. Eppure, questo grande show ha rischiato di privarsi sin dall'inizio di uno dei suoi personaggi cardine.
Jack Shephard infatti sarebbe dovuto perire durante il primo episodio, al posto del co-pilota ucciso dal mostro di fumo. A raccontare questo aneddoto è stato Michael Keaton, inizialmente scelto per interpretare il personaggio, durante un podcast del 2017 con Hollywood Reporter.
L'attore ha spiegato che il suo personaggio avrebbe incarnato lo stereotipo del leader/eroe, che tenta di salvare tutti ma fallisce nel suo intento giacché viene ucciso negli ultimi dieci minuti dell'episodio con un grande colpo di scena. Keaton fu inizialmente propenso ad accettare il lavoro, ma J.J. Abrams e gli autori della serie tv cambiarono idea e l'attore preferì lasciare il ruolo.
7) Joey e Dawson di nuovo insieme (Dawson's Creek)
Dawson Creek è stato uno dei teen drama più amati degli anni '90. E uno dei filoni narrativi che spesso è stato al centro dell'intero show riguarda la coppia formata da Joey e Dawson. I ragazzi durante le stagioni maturano, crescono, rendendosi conto di funzionare più come amici che come amanti.
Tutto questo prosegue sino al finale di stagione, durante il quale ci sarebbe dovuto essere un plot twist che avrebbe cambiato le carte in tavola. Durante la reunion di tutti gli showrunner della serie tv, all'ATX Television Festival, è stato infatti dichiarato che Joey e Dawson sarebbero dovuti tornare insieme. Per fortuna Williamson, spalleggiato dai colleghi, decise di cambiare idea e di non optare per un simile colpo di scena che avrebbe tradito l'intero percorso dello show.
8) L'approfondimento della depressione da ufficio (The Office)
The Office è una di quelle comedy di cui non ci si stanca mai. Grazie alla tecnica del falso documentario ci accoglie, stagione dopo stagione, nell'ufficio più matto, goffo e scorretto della televisione.
La sitcom però non avrebbe dovuto avere sempre questo clima così allegro e spensierato. Una delle idee scartate per lo show riguardava il tema della depressione, che sarebbe dovuto essere al centro della narrazione in seguito al suicidio di uno dei dipendenti. Gli autori lo hanno ammesso durante la The Office Convention del 2007, rivelando che dietro la decisione di girare un documentario nella sede di Scranton vi era l'ambizione di approfondire la depressione sul posto di lavoro e di scoprire in che modo i dipendenti superassero il tragico evento.
La famosa comedy quindi avrebbe dovuto prendere inizialmente una piega molto più dark.
9) Il mancato matrimonio tra Francesca e Maxwell (La Tata)
La relazione tra Francesca e Maxwell rappresenta uno dei pilastri della serie La Tata. Lo show ruota essenzialmente attorno al gioco di sguardi, alla velata seduzione e al reciproco interesse tra i due. Per questa ragione l'arrivo del loro matrimonio riflette un traguardo parecchio agognato.
Eppure, secondo Fran Drescher, l'attrice protagonista, le cose non sarebbero mai dovute andare cosi. La donna, in un'intervista a news.com.au dichiarò infatti che la serie tv non si sarebbe dovuta concludere con l'ufficializzazione della coppia. Secondo la Drescher, il finale ideale avrebbe visto Francesca nel ruolo di tata dei ragazzini e il signor Sheffield nel ruolo di datore di lavoro, separati unicamente da una forte attrazione. Tuttavia, la CBS propose agli autori un ultimatum per evitare la precoce cancellazione dello show e accontentare così i fan: far sposare Fran e Maxwell.
10) Victoria diventa la moglie di Ted (How I Met Your Mother)
La grande popolarità raggiunta da How I Met Your Mother le ha permesso di prender posto tra le serie tv più importanti, candidandosi a unica vera erede di Friends.
Questa sitcom ha incuriosito gli spettatori che per nove stagioni hanno atteso di scoprire la reale identità della famosa "mamma".
Eppure, il ruolo affidato all'amatissima Tracy ha rischiato di essere ceduto a qualcun altro. Gli autori dello show hanno dichiarato in passato che, nel caso in cui lo show non avesse riscosso alcun successo, un piano b sarebbe stato già in cantiere. In particolar modo, la moglie di Ted sarebbe stata Victoria, la ragazza conosciuta nella prima stagione. Non ci sarebbero stati ombrelli gialli, né strazianti canzoni suonate all'ukulele. Questo plot twist avrebbe così rivoluzionato la storyline di Ted, anticipando di conseguenza la conclusione della serie.